Aquarius is a 10-star Mage Class card. Its card rarity is Ultra Rare.
Attributes at Level 1
Edit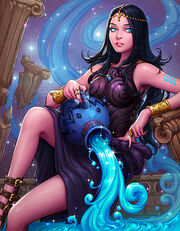 Cost: 18
Attack: 390
HP: 5675
Skill: Heal 2(3)
BattleSkill: Extreme Rage 4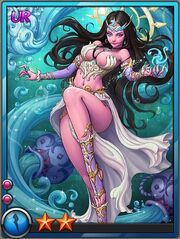 Aquarius+
Edit
Cost:
Attack:
HP:
Skill:
BattleSkill:
Aquarius can be combined with Aquarius to get Aquarius+.
"They say Aquarius's water jug holds enough water to flood the continent. She is the only one that can control this dangerous object."
Ad blocker interference detected!
Wikia is a free-to-use site that makes money from advertising. We have a modified experience for viewers using ad blockers

Wikia is not accessible if you've made further modifications. Remove the custom ad blocker rule(s) and the page will load as expected.