Ariel is an 8-star Archer Class card. Its card rarity is Ultra Rare.
Attributes at Level 1
Edit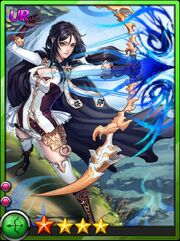 Evolution
Edit
Ariel can be combined with Ariel to get Ariel+.
Ariel is part of the Popular 1 and 2 Sets.
"These dark souls have followed me around since my birth. I must learn to control them before the darkness of their souls devour me."- Ariel
"When she draws her bow, the dark souls start to gather. She is able to rule the darkness because she does not fear it." - Ariel+
Ad blocker interference detected!
Wikia is a free-to-use site that makes money from advertising. We have a modified experience for viewers using ad blockers

Wikia is not accessible if you've made further modifications. Remove the custom ad blocker rule(s) and the page will load as expected.