Bonniz is a 6-star Mage Class card. Its card rarity is Super Rare.
Attributes at Level 1
Edit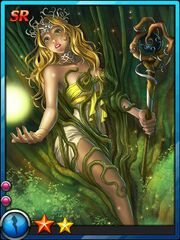 Evolution
Edit
Bonniz can be combined with Bonniz to get Bonniz+.
Bonniz+ can be fused with Snowy Cloak, Pyromancer, and Seraphim to form No.000.
Bonniz is part of the Power of Nature 1 and 2 Sets.
"Bonniz was born in a tree of life at the center of Brikeaz. All plants pay her respect and share their powers. She's now going to help you with that power."- Bonniz
"She fought with all of her strength, but fell to the ground. When the evil forces were about to slash her to death, tree roots sprung from the ground, surrounded and revived her." - Bonniz+
Ad blocker interference detected!
Wikia is a free-to-use site that makes money from advertising. We have a modified experience for viewers using ad blockers

Wikia is not accessible if you've made further modifications. Remove the custom ad blocker rule(s) and the page will load as expected.