Cowboy Ekal is a 7-Star Archer Class card. Its card rarity is Super Rare.
Attributes at level 6
Edit
Cowboy Ekal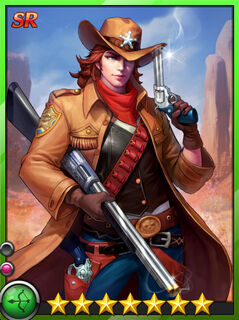 Cowboy Ekal+ lvl 1 (2 fully evolved Ekal lvl10)
Cost: 20
Attack: 306
HP: 4473
Skill: Attack 2(3)
Batlleskill: Full of Vigor 4
Sell Value: 31104 gold
Evolving
Edit
Cowboy Ekal can be evolved with Cowboy Ekal to get Cowboy Ekal+
"It'd be a mistake to just think of me as a farmhand. In these lands, there isn't a single soul that is as tough and shoots guns as well as me." - Cowboy Ekal
Ad blocker interference detected!
Wikia is a free-to-use site that makes money from advertising. We have a modified experience for viewers using ad blockers

Wikia is not accessible if you've made further modifications. Remove the custom ad blocker rule(s) and the page will load as expected.