Eas is a 5-star Mage Class card. Its card rarity is Rare.
Attributes at Level 1
Edit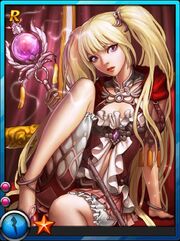 Evolution
Edit
Eas can be combined with Eas to get Eas+.
"The genius Eas is an anomaly at the magic school. She shocked all the professors by figuring out how to reverse Cruella's magic equation during her first year."- Eas
"She learned so quickly. All the great magicians have said that she will be the greatest magician the world has ever known." - Eas+
Ad blocker interference detected!
Wikia is a free-to-use site that makes money from advertising. We have a modified experience for viewers using ad blockers

Wikia is not accessible if you've made further modifications. Remove the custom ad blocker rule(s) and the page will load as expected.