Elena is a 9-star Mage Class card. Its card rarity is Ultra Rare.
Attributes at Level 1
Edit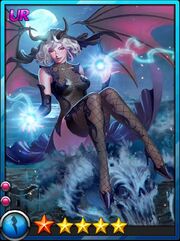 Evolution
Edit
Elena can be combined with Elena to get Elena+.
Elena can be fused with Premium Blue Orb, Premium Red Orb, and Rika to form Capricorn.
Elena is part of the Dangerous Liaison and Devil's Touch Sets.
"I can hear the cries of a pitiful soul from a distance. I think I should lend that person my help."- Elena
"Lauren is the first person to borrow my power. Hehe-! I think I'm going to have a lot of fun in this world." - Elena+
Ad blocker interference detected!
Wikia is a free-to-use site that makes money from advertising. We have a modified experience for viewers using ad blockers

Wikia is not accessible if you've made further modifications. Remove the custom ad blocker rule(s) and the page will load as expected.