Han is a 5-star Thief Class card. Its card rarity is Rare.
Note: The original quotes erroneously used masculine pronouns in spite of the clearly feminine traits which can be seen in the card illustration
Attributes at Level 1
Edit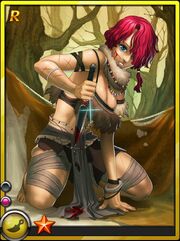 Evolution
Edit
Han can be combined with Han to get Han+.
"She had the blood of a wolf. The wild wolf's spirit takes over once she's on the battlefield."- Han
"Han never fears a black leopard that's about ten times bigger than her. Her sword pierces through the back of a leopard's neck until it can't fight anymore." - Han+
Ad blocker interference detected!
Wikia is a free-to-use site that makes money from advertising. We have a modified experience for viewers using ad blockers

Wikia is not accessible if you've made further modifications. Remove the custom ad blocker rule(s) and the page will load as expected.