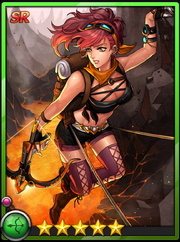 Hell Raider is a 5-starArcher Class. It's card rarity is Super Rare.
Attributes at level 1
Edit
Hell Raider
Edit
Evolution
Edit
Can be created by combining Devil Hunter+ and Exorcist+.
Hell Raider does not evolve any further.
Hell Raider can be fused with Victorious Coat of Arms, Kiya, and Lily to form Sylvania.
"It all depends on whether the Hell Raider has enough courage to fight with the devil and how long she can last in the hellfire."  - Hell Raider
Ad blocker interference detected!
Wikia is a free-to-use site that makes money from advertising. We have a modified experience for viewers using ad blockers

Wikia is not accessible if you've made further modifications. Remove the custom ad blocker rule(s) and the page will load as expected.