Jrentague is a 9-star Warrior Class card. Its card rarity is Ultra Rare.
Attributes at Level 1
Edit
Jrentague
Edit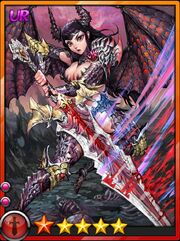 Jrentague+
Edit
Evolution
Edit
Jrentague can be combined with Jrentague to get Jrentague+.
Jrentague can be fused with Premium Red Orb, Premium Blue Orb, and Nicole to form Taurus.
Jrentague is part of the Dragon's Power and Power of Genesis Sets.
"The Dragon people are born with incredible strength so even a giant sword like that feels like a toy sword to her."- Jrentague
"Let's unleash the full power of the Dragon tribe. My sword has been infused with blood and has turned blood red. I may not be stronger than the gods, but I am stronger than you." - Jrentague+
Ad blocker interference detected!
Wikia is a free-to-use site that makes money from advertising. We have a modified experience for viewers using ad blockers

Wikia is not accessible if you've made further modifications. Remove the custom ad blocker rule(s) and the page will load as expected.