Kina is a 9-star Thief Class card. Its card rarity is Ultra Rare.
Attributes at Level 1
Edit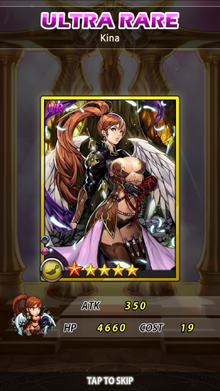 Evolution
Edit
Kina can be combined with Kina to get Kina+
Kina can be formed by fusing Ninja with Crown of Aegis, Masked Leona, and Marcia.
Kina is part of the set : The Four Goddesses
Kina is one of the four goddesses that recieved the will of Aegis. She is the goddess of the earth. The dirt and plants are all in the palm of her hand
Ad blocker interference detected!
Wikia is a free-to-use site that makes money from advertising. We have a modified experience for viewers using ad blockers

Wikia is not accessible if you've made further modifications. Remove the custom ad blocker rule(s) and the page will load as expected.