Lauren is a 9 star Warrior class card. It's rarity is UR.
Level 1 Attributes
Edit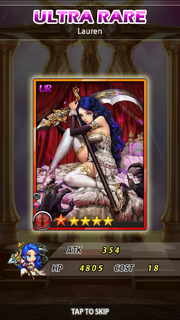 Cost: 18
Attack:
HP:
Skill: create(2)
Battleskill: summon 2 Sword Blocks
Cost: 18
Attack:
HP:
Skill:
Battleskill:
Set name: Dangerous Liaison
Edit
Together with Stacy, Elena and Yvette, she forms the set effect Dangerous Liaison: Opponent party ATK/HP decreased by 10% in battle.
She also has her own set effect, Guardian Girl: Full party HP 10% up in Battle
Unknown
"DLauren is the Daughter of te dethroned royal family. She is hiding in the ruins of her palace. There she awaits for the change to get stronger."
Ad blocker interference detected!
Wikia is a free-to-use site that makes money from advertising. We have a modified experience for viewers using ad blockers

Wikia is not accessible if you've made further modifications. Remove the custom ad blocker rule(s) and the page will load as expected.