Lulu is a 9-star Thief Class card. Its card rarity is Ultra Rare.
Attributes at Level 1
Edit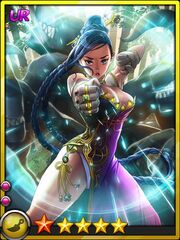 Evolution
Edit
Lulu can be combined with Lulu to get Lulu+.
Lulu can be fused with Premium Red Orb, Premium Yellow Orb, and Stacy to form Leo.
"Lulu catches monsters to earn money to rebuild her dojo. Which colossal monster will she capture today?"- Lulu
"Lulu the fighter can subdue her enemies swiftly and take down giant monsters with one blow. She is now an infamous hunter among both monsters and humans." - Lulu+
Ad blocker interference detected!
Wikia is a free-to-use site that makes money from advertising. We have a modified experience for viewers using ad blockers

Wikia is not accessible if you've made further modifications. Remove the custom ad blocker rule(s) and the page will load as expected.