Mika is a 6-star warrior Class card. Its card rarity is Super Rare.
Attributes at Level 1
Edit
Cost: 18
Attack: 214
HP: 3326
Skill: Create (5)
Battleskill: Tribal Blessing 1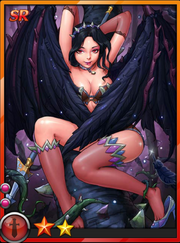 Cost: 18
Attack: 254
HP: 3906
Skill: Create (5)
Battleskill: Turn the tide 1
Evolution
Edit
Mika can be combined with Mika to get Mika+
Mika+ does not evolve any further.
Asmodeus is part of a the 'Good and Evil'set.
The celesial general has ordered Mika to aid Brikaez in battle. She is known to be part-devil. -Mika
After a killing spree on the battlefield, Mika's head and wings turned black. Her eyes were filled with rage and madness. - Mika+
Ad blocker interference detected!
Wikia is a free-to-use site that makes money from advertising. We have a modified experience for viewers using ad blockers

Wikia is not accessible if you've made further modifications. Remove the custom ad blocker rule(s) and the page will load as expected.