Mona & Reina is a 9-star Warrior Class card. Its card rarity is Ultra Rare.
Attributes at Level 1
Edit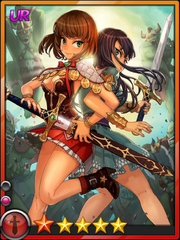 Mona & Reina
Edit
Mona & Reina+
Edit
Cost:
Attack:
HP:
Skill:
BattleSkill:
Evolution
Edit
Mona & Reina can be combined with Mona & Reina to get Mona & Reina+.
unknown
Mona & Reina are part of the Forever Partners Set.
"Twins Mona and Reina have been put into the spotlight as master swordwoman in the kingdom. They are so in sync that when they move, their two swords look like one"- Mona & Reina
Ad blocker interference detected!
Wikia is a free-to-use site that makes money from advertising. We have a modified experience for viewers using ad blockers

Wikia is not accessible if you've made further modifications. Remove the custom ad blocker rule(s) and the page will load as expected.