Ninja is a 5-star Thief Class card. Its card rarity is Super Rare.
Attributes at Level 1
Edit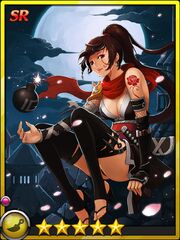 Cost: 22
Attack: 182
HP: 2804
Skill: Execution (4)
BattleSkill: Winning Grace
Sell value: 10368 gold and 5 Yellow Star Stones
Evolution
Edit
Can be created by evolving Explosion Specialist+ and Power Archer+.
Ninja does not evolve any further.
Ninja can be fused with Crown of Aegis, Masked Leona, and Marcia to form Kina.
"Our objective is not to win, but to kill the opponent. Preferably before the fight even begins..."- Ninja
Ad blocker interference detected!
Wikia is a free-to-use site that makes money from advertising. We have a modified experience for viewers using ad blockers

Wikia is not accessible if you've made further modifications. Remove the custom ad blocker rule(s) and the page will load as expected.