Ocamel is a 7-star Mage Class card. Its card rarity is Super Rare.
Attributes at Level 1
Edit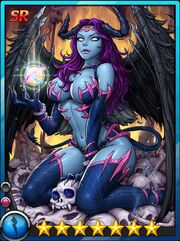 Evolution
Edit
Ocamel can be combined with Ocamel to get Ocamel+.
Ocamel is part of the Festival of the Devils Set.
"You're a great warrior. I give you that. But just because you've sealed me inside, we're not finished! I'm just curious about your adventure!"- Ocamel
"You want to know about the Hellgate? Hellgate is full of ancient demons. How many demons can get out of the Hellgate alive? It all depends on you. You know what I'm talking about!" - Ocamel+
Ad blocker interference detected!
Wikia is a free-to-use site that makes money from advertising. We have a modified experience for viewers using ad blockers

Wikia is not accessible if you've made further modifications. Remove the custom ad blocker rule(s) and the page will load as expected.