Power Archer is a 4 star [Card class|Archer Class] card. Its card rarity is Rare.
Attributes at Level 1
Edit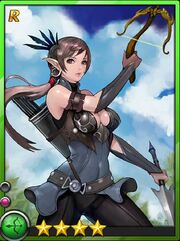 Power Archer
Edit
Cost: 16
Attack: 120
HP: 1557
Skill: Ambush (5)
Battleskill: [[Summon Tree Block] 1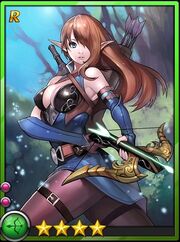 Power Archer+
Edit
Power Archer is the result of combining Archer+++ and Fighter+++.
Power Archer can be combined with Power Archer to get Power Archer+
Power Archer+ can be combined with Explosion Specialist+ to get Ninja
Power Archer can be fused with Flag of Brikeaz, Claw of Hell Tauren, and Sekhmet's Heart to form Victorious Coat of Arms.
Power Archer is part of the Lovely Elves 1 and 2 Sets.
"Great archers aren't at their best in a melee. However, power archers are always ready for close range battles with their daggers." - Power Archer
"I'm ready for any kind of battle! Let's move!" - Power Archer+
Ad blocker interference detected!
Wikia is a free-to-use site that makes money from advertising. We have a modified experience for viewers using ad blockers

Wikia is not accessible if you've made further modifications. Remove the custom ad blocker rule(s) and the page will load as expected.