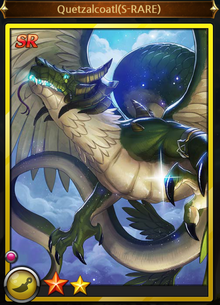 Quetzalcoatl is an 6-star Thief Class card. Its card rarity is Super Rare.
Attributes
Edit
Quetzalcoatl
Edit
Evolution
Edit
Quetzalcoatl does not evolve any further.
Quetzalcoatl is part of the 2nd Alliance 1 and 2 Sets.
"Very timid like a cat. Don't provoke. You don't know what will happen."
Ad blocker interference detected!
Wikia is a free-to-use site that makes money from advertising. We have a modified experience for viewers using ad blockers

Wikia is not accessible if you've made further modifications. Remove the custom ad blocker rule(s) and the page will load as expected.