Shaman is a 5-star Mage Class card. Its card rarity is Super Rare.
Attributes at Level 1
Edit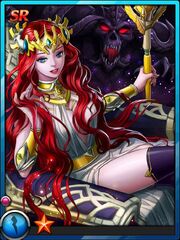 Evolution
Edit
Shaman can be created by combining Conjurer+ and Light Warrior+.
Shaman does not evolve any further.
Shaman fuses with Snowy Cloak, Jean on the Throne, and Ara to form Tia.
"I want to summon cute demons, but people seem to want the scary ones."- Shaman
Ad blocker interference detected!
Wikia is a free-to-use site that makes money from advertising. We have a modified experience for viewers using ad blockers

Wikia is not accessible if you've made further modifications. Remove the custom ad blocker rule(s) and the page will load as expected.