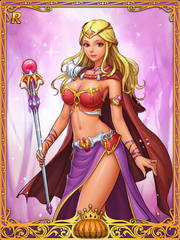 The Smile of Princess is a card only used for selling or enchanting other cards. Its card level rarity is Rare. Although the card level is rare, it's much more common than other Rare cards. 
Sell Value: 7776 gold
Total Enchant Cost: 6480 gold
"Your card will grow thanks to Smile of Princess. (It's used as an enchanting material.)"  - Smile of Princess
Ad blocker interference detected!
Wikia is a free-to-use site that makes money from advertising. We have a modified experience for viewers using ad blockers

Wikia is not accessible if you've made further modifications. Remove the custom ad blocker rule(s) and the page will load as expected.