Sniper is a 5-Star Archer Class card. Its card rarity is Super Rare
Attributes at level 1
Edit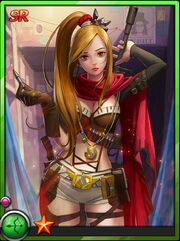 Evolution
Edit
Can be created by combining Ranger+ with Assassin+.
Sniper does not evolve any further.
Sniper can be fused with Victorious Coat of Arms, Valkyrie, and BassG+ to form Lily.
"You only get one shot in this field. As soon as the target feels the bullet, they're bound to run"
Ad blocker interference detected!
Wikia is a free-to-use site that makes money from advertising. We have a modified experience for viewers using ad blockers

Wikia is not accessible if you've made further modifications. Remove the custom ad blocker rule(s) and the page will load as expected.