Sonin is a 4-star Archer Class. It's card level rarity is Rare
Attibutes at Level 1
Edit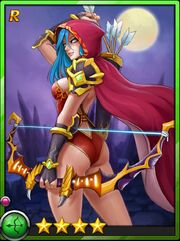 COST: 25
ATK: 164
HP: 2543
SKILL: Execution (5)
Sell value: 7776
BattleSkill: None
Evolution
Edit
Sonin does not evolve any further.
Sonin is part of the Lovely Elves 2 Set.
"After witnessing her fellow dark elf archers working for the evil forces, she left her tribe and lived in the rocky areas. If you're here to restore their reputation and pride, I'm with you." - Sonin
Ad blocker interference detected!
Wikia is a free-to-use site that makes money from advertising. We have a modified experience for viewers using ad blockers

Wikia is not accessible if you've made further modifications. Remove the custom ad blocker rule(s) and the page will load as expected.