Sudden Face is a 5-star Thief Class card. Its card rarity is Rare.
Attributes at Level 1
Edit
Sudden Face
Edit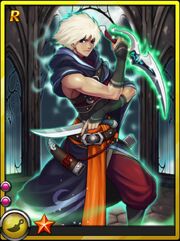 Sudden Face+
Edit
Evolution
Edit
Sudden Face can be combined with Sudden Face to get Sudden Face+.
"Sudden Face, the leader of the desert tribe, has been going on dangerous adventures ever since he was young. After a bout against Leona, he fell in love with her and followed her all the way onto the battlefield."- Sudden Face
"Leona is the strongest I've ever fought against. After the fierce bout, I couldn't do anything but think of her. She loves putting herself in danger. I must protect her with all I've got." - Sudden Face+
Ad blocker interference detected!
Wikia is a free-to-use site that makes money from advertising. We have a modified experience for viewers using ad blockers

Wikia is not accessible if you've made further modifications. Remove the custom ad blocker rule(s) and the page will load as expected.