Sword Dancer is a 4-star Thief Class card. Its card rarity is Rare.
Attributes at Level 1
Edit
Sword Dancer
Edit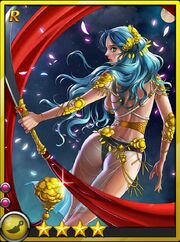 Sword Dancer+
Edit
Evolution
Edit
Sword Dancer is the result of combining Dancer+++ and Rogue+++.
Sword Dancer can be combined with Sword Dancer to get Sword Dancer+.
Sword Dancer+ can be combined with Dark Magician+ to get Demon Blader.
Sword Dancer fuses with Flag of Brikeaz, Claw of Hell Tauren, and Champion's Laurel to form Crown of Aegis.
"While you're mesmerized by the dance, the sword will slash your throat. What a beautiful moment."- Sword Dancer
"Dancing in the fiery battlefield makes me feel very excited. That excitement often means sadness as well. Am I being too emotional here?" - Sword Dancer+
Ad blocker interference detected!
Wikia is a free-to-use site that makes money from advertising. We have a modified experience for viewers using ad blockers

Wikia is not accessible if you've made further modifications. Remove the custom ad blocker rule(s) and the page will load as expected.