Trainer is a 1-star Mage Class card. Its card rarity is Normal.
Attributes at Level 1
Edit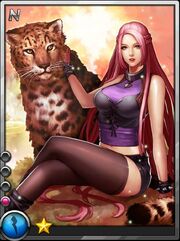 Cost: 10
Attack: 60
HP: 716
Cost: 10
Attack: 68
HP: 832
Trainer++
Edit
Cost: 10
Attack: 76
HP: 948
Trainer+++
Edit
Cost: 10
Attack: 84
HP: 1064
Evolution
Edit
Trainer+++ can be combined with Alchemist+++ to get Beast Conqueror.
"Trainers say they don't use the beasts to fight. They fight with the beasts."- Trainer
"Playing with the beasts will cost you some clothes. If you have a cat, you'll know what I'm talking about." - Trainer+
"He has been with me throught countless battles. We have saved each others lives numerous times."- Trainer++
"Well, there's nowhere to go now. I'll bring out the rage from that beast with my magic spells." - Trainer+++
Ad blocker interference detected!
Wikia is a free-to-use site that makes money from advertising. We have a modified experience for viewers using ad blockers

Wikia is not accessible if you've made further modifications. Remove the custom ad blocker rule(s) and the page will load as expected.