Vera is a 5-star Warrior Class. It's card rarity is Rare.
Attibutes at Level 1
Edit
COST: 30
ATK: 194
HP: 2978
Skill: Ambush (5)
Battleskill: Extreme Rage 2
Sell value: 7776 gold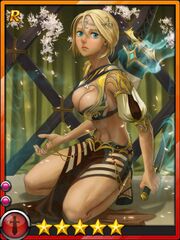 Evolution
Edit
"Daughter of the northern barbaric tribe, Vera is a strong-minded lady. She even cut her long hair short as she headed to the battlefield."  - Vera
"The war lasted longer than we thought. So did Vera's hair. Vera has dedicated herself in the battle again... Goodness, she just looks gorgeous, doesn't she?" - Vera+
Ad blocker interference detected!
Wikia is a free-to-use site that makes money from advertising. We have a modified experience for viewers using ad blockers

Wikia is not accessible if you've made further modifications. Remove the custom ad blocker rule(s) and the page will load as expected.