Vina is an 8-star Mage Class card. Its card rarity is Ultra Rare.
Attributes at Level 1
Edit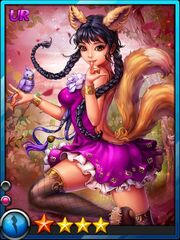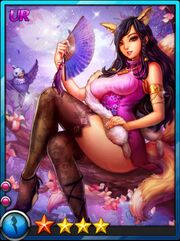 Evolution
Edit
Vina can be combined with Vina to get Vina+.
"She is the chief of the Fi Tribe. It is said that her prophecies have never been wrong."- Vina
"It looks like we are no longer able to avoid the battle with the forces of evil. The warriors of Fi, arise! We will fill the forest with our fox calls!" - Vina+
Ad blocker interference detected!
Wikia is a free-to-use site that makes money from advertising. We have a modified experience for viewers using ad blockers

Wikia is not accessible if you've made further modifications. Remove the custom ad blocker rule(s) and the page will load as expected.