Violet is a 2-star Warrior Class card. It's card level rarity is H-Normal.
Attributes at Level 1
Edit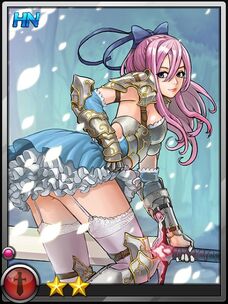 COST: 18
ATK: 94
HP: 1238
SKILL: Execution (5)
Sell value: 5184 gold
Evolution
Edit
Violet does not evolve any further.
"Monsters approach her like she is a lost little girl. Then she slashes all of them to death." - Violet
Ad blocker interference detected!
Wikia is a free-to-use site that makes money from advertising. We have a modified experience for viewers using ad blockers

Wikia is not accessible if you've made further modifications. Remove the custom ad blocker rule(s) and the page will load as expected.