Vion is a 6-star Thief Class card. Its card rarity is Super Rare.
Attributes at Level 1
Edit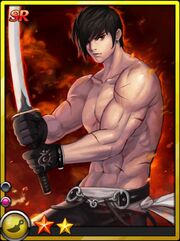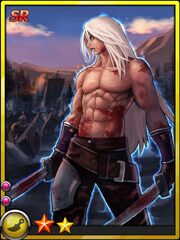 Evolution
Edit
Vion can be combined with Vion to get Vion+.
Vion is part of the Heroes of the East 1 and 2 Sets.
"This swordsman from the east uses a sword that harnesses the power of the flame. He's very strong-minded. However, he is always on guard because of the sword spirit that follows him everywhere."- Vion
"While on the verge of losing his life, he finally succumbed to the sword spirit. In doing so, he became more powerful than ever. However, he is slowly losing his human compassion." - Vion+
Ad blocker interference detected!
Wikia is a free-to-use site that makes money from advertising. We have a modified experience for viewers using ad blockers

Wikia is not accessible if you've made further modifications. Remove the custom ad blocker rule(s) and the page will load as expected.