Wallace is a 5-star Warrior Class card. Its card rarity is Rare.
Attributes at Level 1
Edit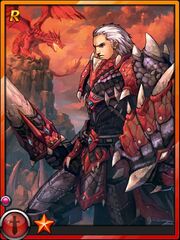 Evolution
Edit
Wallace does not evolve any further.
"The Tai tribe has been living in the magma plain, worshipping the dragon as the ultimate source of their power. Wallace is considered the best dragon knight in 1200 years of the Tai tribe history."- Wallace
Ad blocker interference detected!
Wikia is a free-to-use site that makes money from advertising. We have a modified experience for viewers using ad blockers

Wikia is not accessible if you've made further modifications. Remove the custom ad blocker rule(s) and the page will load as expected.