Witch is a 4-star Mage Class card. Its card rarity is Rare.
Attributes at Level 1
Edit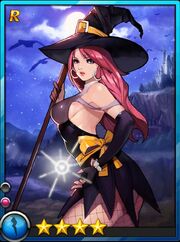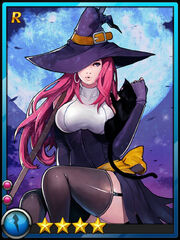 Evolution
Edit
Witch is the result of combining Musician+++ and Rogue+++.
Witch can be combined with Witch to get Witch+.
Witch+ can be combined with HellGuard+ to get Pyromancer.
"I don't care who wins since many of those haughty sorceresses will be gone either way. But I definitely have to catch the one who invaded my castle."- Witch
"A full moon makes me very excited. Aren't you excited to fight with me in this dark dungeon?" - Witch+
Ad blocker interference detected!
Wikia is a free-to-use site that makes money from advertising. We have a modified experience for viewers using ad blockers

Wikia is not accessible if you've made further modifications. Remove the custom ad blocker rule(s) and the page will load as expected.