Yvette is a 9-star Archer Class card. Its card rarity is Ultra Rare.
Attributes at Level 1
Edit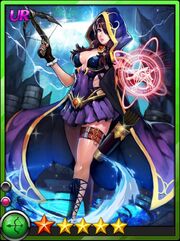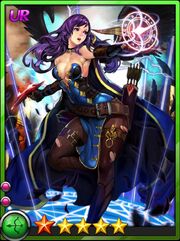 Evolution
Edit
Yvette can be combined with Yvette to get Yvette+.
Yvette can be fused with Premium Green Orb, Premium Yellow Orb, and Sylvania to form Sagittarius.
Yvette can be fused with Premium Blue Orb, Premium Green Orb, and Dorothy to form Virgo.
Yvette is part of the Ancient Dakness and Dangerous Liaison Sets.
"She may look like an angel, but she's one of the most evil devils. It looks like she's holding a contract in her hand. Who was foolish enough to make a deal with her?"- Yvette
"It may be fun to fight alongside Stacy, but she causes a fair share of trouble as well." - Yvette+
Ad blocker interference detected!
Wikia is a free-to-use site that makes money from advertising. We have a modified experience for viewers using ad blockers

Wikia is not accessible if you've made further modifications. Remove the custom ad blocker rule(s) and the page will load as expected.